Megati Waterpark in Bekasi City, West Java Province
---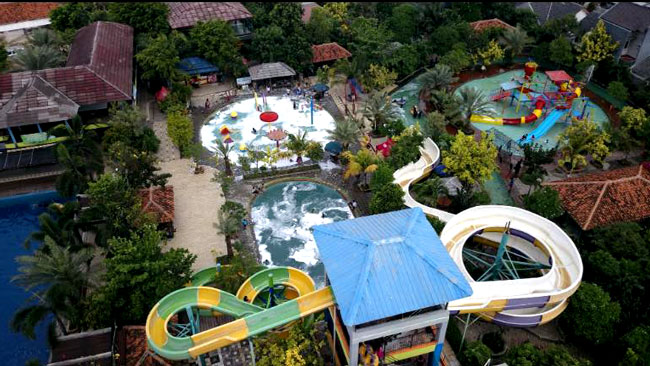 Here is another reference to spending a family recreation during a weekend in Indonesia. The name is Megati Waterpark and it is located in Bekasi City. To be exact, it resides in Karang Bahagia Village and belongs to Cikarang Utara Sub-District. The locals have been coming regularly to the site, especially during big holidays. These days, in fact, outsiders are also interested in it! Thanks to peaceful atmosphere and the variety of water rides. In a nutshell, it is a perfect place to build a stronger relationship with family members!
The Nuance
The fact is each waterpark applies a unique concept. So, what is about Megati Waterpark? It involves the village nuance with its pristine environment. No wonder, it feels so relaxing there. Not to mention tourists can find various water rides including kiddy pool, Olympic pool, toddler pool, wave pool, slides, and much more What they need to do is to pay the entry fee first. Do not forget to carry extra cash to rent some equipment especially water tube! The money is used to buy some foods and drinks too, after all.
Exploring Megati Waterpark
It is said Megati Waterpark was built for families with kids. Still, it is available for everyone regardless of the age and from where they come. The most crowded time is usually during the long holidays. At the time, students and their friends come to the waterpark to relieve stresses accumulated due to studies. Have no worries. The site provides adults' pool, where they can enjoy swimming in a more challenging manner. This pool is deeper than others, after all. Plus, it features a water slide to increase the fun!
When it comes to the most popular water ride, it is none other than the wave pool. As the name suggests, this one comes with waves (which is similar to that of the sea). In order to avoid unwanted things, kids should wear a water tube. It can be rented from the available service, actually. What is more? Another popular facility is called Cabana. It is a resting area used by the guests to relax after swimming. This one offers a country atmosphere surrounded by pools. What a nice spot to eradicating stresses!
While resting at Cabana, tourists can eat some foods and drinks fresh soda as well! They can either bring these foods from a hotel or buy them from the available canteen. Therefore, everyone should not forget to carry extra cash when visiting Megati Waterpark. They may use the money to rent a water tube for their kids, after all.
Nearby Attractions

Telaga Mas Kedaton
Penguin Waterpark
How to Get There
From Bandung City, a trip to Megati Waterpark may take approximately 2 hours and 21 minutes. It is because the distance is 126 km. This trip becomes faster if tourists take Purbaleunyi Highway and Raya Pantura Street. The first destination is Bekasi City. Next, they can directly head to Cikarang Utara Sub-District and reach Karang Bahagia Village afterward.
Where to Stay

Celecton Hotel
Igloo Hotel
Holiday Inn
Evitel Hotel

Latest News
In the Journal of Nature (a scientific journal of high repute), Mounce et al (2017) revealed, widely that Botanical Gardens around the world have collected at least 105,634 species or equivalent to 30% of all known plant diversity worldwide. However, it was also disclosed that there are an estimated 75% of species that have not been conserved in the tropics. Therefore, the Bogor Botanical Gardens which incidentally located in the tropics and are included in the oldest botanical gardens in Southeast Asia, must be able to answer the conservation challenges…
---
The Bogor Botanical Gardens are the only natural destination in the middle of Bogor city with 87 hectares area. The transportation support capacity is very adequate to access this tourist location. Easy toll access and public transportation access are widely available, which are added values ??for the existence of this tourist location. The existence of the Bogor Botanical Gardens itself cannot be separated from the historical value of the existence of the Dutch in the colonial period, where it is known that the Bogor Botanical Gardens was founded by the…
---
Ranca Upas is one of the tourist destinations in Bandung. Here you can camp while looking at the herd of deer and stunning scenery. Ranca Upas is a tourist spot located in Rancabali District, Bandung Regency, West Java. Ranca Upas is also known as campground, which is a favorite place for nature lovers. At Ranca Upas you can camp in the meadow on a hill of about 1700 meters above sea level. The view in the morning really amazes like being abroad. Moreover, the cool air makes the atmosphere more…
---
Last year, the waterfall or in local language called as 'curug', became a very popular tourist destination for tourists. Its presence in remote areas makes tourists more curious and feels challenged to reach it. Local waterfalls are also crowded because at that time Indonesian citizens were hit by boredom due to the Corona virus pandemic which forced them to cancel their vacation plans. West Java is not only famous for its beautiful beaches and mountains. The area, which is divided into 18 districts and nine cities, also has tourism potential…
---