Traditional Foods of Bekasi City in West Java Province
---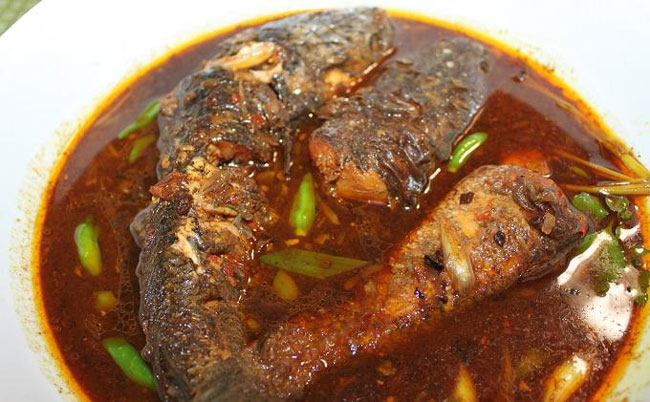 Many motives inspire people to conduct a vacation in a beautiful country like Indonesia. One of them is related to culinary, without a doubt. Let's take an example in Bekasi City of West Java Province. Tourists may find tons of local snacks and foods to enjoy. These include Sayur Gabus Pucung, Bandeng Rorod, Kue Rangi, Dodol, Betawi, and much more. Even Bekasi has a signature drink called Bir Pletok! Thus, tourists should not miss any of them while visiting the region later. After all, everyone needs to rest and eat something before continuing their trip, no?
The Best Place to Get Them
Before discussing more regarding those foods, it is better to know where people can get them first. Usually, tourists might buy them at the hotel where they are staying. The only problem is that the cost is more expensive as compared to buying at local eateries. For instance, the best recommendation is at Harapan Indah Street. The location is in Medan Satria Village, actually. Many snack and food vendors operate there, so tourists can easily find what they need. Not to mention the price is more affordable! Plus, the nuance is better!
Exploring
For those who love eating vegetables and fishes, they should try Bekasi's Sayur Gabus Pucung. In fact, it has become the signature dish of the region. The main ingredient is snakehead murrel and it features traditional spices especially Pangium edule. No wonder, the broth becomes black and has a unique savory taste. As an alternative, tourists should try Bandeng Rorod. The main ingredient of this one is milkfish. Unlike others, it doesn't have any fish bones due to an excellent cooking method. Not to mention the taste is superb!
What is next? When it comes to snacks, Bekasi City has various choices including Kue Rangi. This coconut cake tastes well and has a texture which is similar to that of Pukis cake. The cake also comes with brown sugar sauce, which makes it sweet to eat! The next popular cake is called Kembang Goyang. This one has a crispy texture and becomes a perfect souvenir for those who visit Bekasi. As the name suggests, "Kembang" means flower, so the cake comes in the shape of a flower.
What about traditional drinks? Well, Bekasi City has Bir Pletok. Despite the name, which includes beer in it, the drink doesn't involve any alcohol. That means everyone is allowed to enjoy it including Moslem. It tastes sweet and rich, due to the presence of various local spices especially ginger and cinnamons. Overall, tourists can find more foods and drinks in Bekasi. What they need to do is to explore the region and ask for information from their local guide!
Nearby Attractions

Namat Public Fishing Pond
Go Wet Waterpark
Kembang Market
Jakarta City
How to Get There
Tourists get the best experience in enjoying those foods if they come to Bekasi City directly. For the information, from Bandung City, the trip may take approximately 2 hours and 25 minutes. It is because the distance is 133 km. Once arriving at Bekasi, the best destination is definitely Harapan Indah Street. Do not forget to come with families, so the nuance becomes merrier while eating!
Where to Stay

Asa Hotel
Green Hotel
Aston Imperial Hotel
Amaroosa Hotel
Horison Hotel

Latest News
In the Journal of Nature (a scientific journal of high repute), Mounce et al (2017) revealed, widely that Botanical Gardens around the world have collected at least 105,634 species or equivalent to 30% of all known plant diversity worldwide. However, it was also disclosed that there are an estimated 75% of species that have not been conserved in the tropics. Therefore, the Bogor Botanical Gardens which incidentally located in the tropics and are included in the oldest botanical gardens in Southeast Asia, must be able to answer the conservation challenges…
---
The Bogor Botanical Gardens are the only natural destination in the middle of Bogor city with 87 hectares area. The transportation support capacity is very adequate to access this tourist location. Easy toll access and public transportation access are widely available, which are added values ??for the existence of this tourist location. The existence of the Bogor Botanical Gardens itself cannot be separated from the historical value of the existence of the Dutch in the colonial period, where it is known that the Bogor Botanical Gardens was founded by the…
---
Ranca Upas is one of the tourist destinations in Bandung. Here you can camp while looking at the herd of deer and stunning scenery. Ranca Upas is a tourist spot located in Rancabali District, Bandung Regency, West Java. Ranca Upas is also known as campground, which is a favorite place for nature lovers. At Ranca Upas you can camp in the meadow on a hill of about 1700 meters above sea level. The view in the morning really amazes like being abroad. Moreover, the cool air makes the atmosphere more…
---
Last year, the waterfall or in local language called as 'curug', became a very popular tourist destination for tourists. Its presence in remote areas makes tourists more curious and feels challenged to reach it. Local waterfalls are also crowded because at that time Indonesian citizens were hit by boredom due to the Corona virus pandemic which forced them to cancel their vacation plans. West Java is not only famous for its beautiful beaches and mountains. The area, which is divided into 18 districts and nine cities, also has tourism potential…
---