Samrah Musical Performance in Bekasi City, West Java Province
---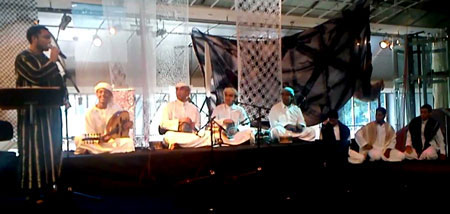 Some tourists might wonder what they can do in Bekasi City. Well, aside from visiting waterparks and natural attractions, they must not forget to watch several traditional performances like Samrah. This musical tradition is influenced by the development of Islam Civilization in Indonesia, which is in the form of art. For those who want to see the physical evidence of such civilization, they can visit Al Barkah Grand Mosque instead. For the information, Samrah was once called Harmonium. The first performance was done during the reign of the Dutch and it remained as the local tradition until now.
The Nuance
In a nutshell, Samrah was born due to the Islam's influence. No wonder, the participants wear Arabic attire and play several instruments especially harmonium. Other musical instruments used in this performance are guitar, violin, and tambourine. These people gather in an open field and play those instruments harmoniously! Not to mention they sing a song during the show. For tourists, it indeed becomes a distinct entertainment when they are visiting Bekasi City. What they need to consider is only the schedule, as the locals don't perform it every day.
Exploring Samrah Musical Performance
The influence of Islam has made Samrah Musical Performance popular in Bekasi City. Not only it has become a local tradition, but it also attracts tourists to visit the region. In terms of name, it derives from the Arabian Language "Samarokh", which means "to gather". No wonder, during the performance, both participants and audience gather in an open field and hold the event together. So, is it only about musical performance?
The fact is Samrah also involves other arts including dances, theatrical acts, and poems. Even the audience is allowed to participate by clapping their hands and follow the harmony to their heart's content. As for the songs, there are some popular choices including Kicir-Kicir, Sirih Kuning, Angsa Dua, and Jali-Jali. Despite such traditional songs, the performers wear the Arabian attire! That means it is the combination of local and Arabian culture (which makes it unique and interesting). For the information, after the musical and dance performance, the show ends with theatrical acts and poem reading.
So, when can tourists watch or join Samrah? It is said the locals only hold the performance during special occasions like circumcision, weddings, and big days of Islam. Thus, they must come at those times if they don't want to miss it. Also, it is recommended to come with a local guide who can tell further information regarding the history and meaning of the show. It's worth spending, for sure.
Nearby Attractions

Namat Public Fishing Pond
Go Wet Waterpark
Kembang Market
Jakarta City
How to Get There
The distance between Bandung City (the capital of West Java Province) and Bekasi City is 133 km. That means the trip takes about 2 hours and 25 minutes to get there. Have no worries. It becomes faster if they take Purbaleunyi Highway and Pantura Street. Once again, they must know the exact schedule before coming to Bekasi for watching Samrah Performance.
Where to Stay

Asa Hotel
Green Hotel
Aston Imperial Hotel
Amaroosa Hotel
Horison Hotel

Latest News
In the Journal of Nature (a scientific journal of high repute), Mounce et al (2017) revealed, widely that Botanical Gardens around the world have collected at least 105,634 species or equivalent to 30% of all known plant diversity worldwide. However, it was also disclosed that there are an estimated 75% of species that have not been conserved in the tropics. Therefore, the Bogor Botanical Gardens which incidentally located in the tropics and are included in the oldest botanical gardens in Southeast Asia, must be able to answer the conservation challenges…
---
The Bogor Botanical Gardens are the only natural destination in the middle of Bogor city with 87 hectares area. The transportation support capacity is very adequate to access this tourist location. Easy toll access and public transportation access are widely available, which are added values ??for the existence of this tourist location. The existence of the Bogor Botanical Gardens itself cannot be separated from the historical value of the existence of the Dutch in the colonial period, where it is known that the Bogor Botanical Gardens was founded by the…
---
Ranca Upas is one of the tourist destinations in Bandung. Here you can camp while looking at the herd of deer and stunning scenery. Ranca Upas is a tourist spot located in Rancabali District, Bandung Regency, West Java. Ranca Upas is also known as campground, which is a favorite place for nature lovers. At Ranca Upas you can camp in the meadow on a hill of about 1700 meters above sea level. The view in the morning really amazes like being abroad. Moreover, the cool air makes the atmosphere more…
---
Last year, the waterfall or in local language called as 'curug', became a very popular tourist destination for tourists. Its presence in remote areas makes tourists more curious and feels challenged to reach it. Local waterfalls are also crowded because at that time Indonesian citizens were hit by boredom due to the Corona virus pandemic which forced them to cancel their vacation plans. West Java is not only famous for its beautiful beaches and mountains. The area, which is divided into 18 districts and nine cities, also has tourism potential…
---