Topeng Dance of Bekasi City, West Java Province
---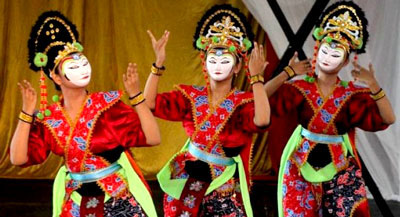 Each region indeed has signature culture or traditions, which also become another allure in terms of tourism. No wonder, for those coming to Bekasi City, they may find several interesting local performances including the Topeng Dance or Tari Topeng. Even though it shares the same name with that of Cirebon, this one offers a distinct beauty for everyone to enjoy. The good thing is the locals have been working hard to retain the tradition and tries the best to promote it to outsiders especially tourists. So, what makes it different than Cirebon's?
The Nuance
In terms of equipment, the dancers indeed wear a mask as its prime accessory. After all, "Topeng" means a mask. When it comes to attire, they wear colorful and stunning attire. So, what about the performance? Unlike Cirebon's Topeng Dance (which only focuses on the dance moves), this one also includes other elements like acting, literary arts, vocal art, and music art. No wonder, it looks like a theatrical show instead of a mere dance! The fact is the performance also includes traditional jokes during the event!
Exploring Topeng Dance
For those who never watch Bekasi Topeng Dance, they must consider hiring a local guide. After all, the performance consists of several phases which might a little bit daunting for the audience. In the beginning, there is the gong beating. It shows that the event has just begun. The unique thing is the number of beating varies depending on the number of Neptu. For instance, there are 4 beatings if it is done on Monday. Have no worries. The local guide may tell the reason and further explanation about it later.
The second phase is called Tatalu, which marked by the sound of Rebab. As for the third phase, it depends on the purpose of the performance. For instance, it involves a solemnization of a marriage if it done during the family occasion. Yet, it features only a greeting if it is done as a mere entertainment. The next phase is considered the prime aspect, which is the dance. It involves three different characters or masks called Rahwana, Satria, and Subadra. Once again, tourists can get more information about it from the local guide.
At the end of the performance, there is a humor or comedy done by the local comedians. It is indeed so entertaining and helps the audience to get rid of stresses due to busy daily routines. As for tourists, the whole performance becomes a distinct entertainment that they can enjoy while visiting Bekasi City for sure.
Nearby Attractions

Namat Public Fishing Pond
Go Wet Waterpark
Kembang Market
Jakarta City
How to Get There
In order to enjoy the performance, tourists can watch it directly in Bekasi City. If they come from Bandung City, the trip may take around 2 hours and 25 minutes. It is because the distance is 133 km. Have no worries. This trip becomes faster if they take Purbaleunyi Highway and Pantura Street.
Where to Stay

Asa Hotel
Green Hotel
Aston Imperial Hotel
Amaroosa Hotel
Horison Hotel

Latest News
In the Journal of Nature (a scientific journal of high repute), Mounce et al (2017) revealed, widely that Botanical Gardens around the world have collected at least 105,634 species or equivalent to 30% of all known plant diversity worldwide. However, it was also disclosed that there are an estimated 75% of species that have not been conserved in the tropics. Therefore, the Bogor Botanical Gardens which incidentally located in the tropics and are included in the oldest botanical gardens in Southeast Asia, must be able to answer the conservation challenges…
---
The Bogor Botanical Gardens are the only natural destination in the middle of Bogor city with 87 hectares area. The transportation support capacity is very adequate to access this tourist location. Easy toll access and public transportation access are widely available, which are added values ??for the existence of this tourist location. The existence of the Bogor Botanical Gardens itself cannot be separated from the historical value of the existence of the Dutch in the colonial period, where it is known that the Bogor Botanical Gardens was founded by the…
---
Ranca Upas is one of the tourist destinations in Bandung. Here you can camp while looking at the herd of deer and stunning scenery. Ranca Upas is a tourist spot located in Rancabali District, Bandung Regency, West Java. Ranca Upas is also known as campground, which is a favorite place for nature lovers. At Ranca Upas you can camp in the meadow on a hill of about 1700 meters above sea level. The view in the morning really amazes like being abroad. Moreover, the cool air makes the atmosphere more…
---
Last year, the waterfall or in local language called as 'curug', became a very popular tourist destination for tourists. Its presence in remote areas makes tourists more curious and feels challenged to reach it. Local waterfalls are also crowded because at that time Indonesian citizens were hit by boredom due to the Corona virus pandemic which forced them to cancel their vacation plans. West Java is not only famous for its beautiful beaches and mountains. The area, which is divided into 18 districts and nine cities, also has tourism potential…
---